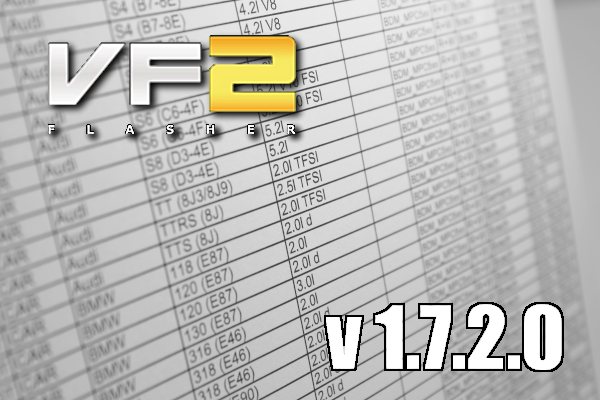 v1.7.2.0 – Aired @ 2016/5/8
---
BOOT TRICORE:
The following Tricore MCUs are now supported:

TC1724 / TC1728 / TC1736 / TC1738 / TC1782 / TC1784 / TC1791 / TC1793 / TC1798.

Adding to the list of already supported Tricore MCUs:

TC1762 / TC1766 / TC1767 / TC1792 / TC1796 / TC1797.

Please note: TC1764 is not officially supported; nevertheless it will be identified as TC1766.
Only the 4MB version of TC1791 is supported for now.
The VF2 Flasher unique ability to recover bad flash sectors has also been extended to the newer supported MCUs.
This is a key feature to recover ECUs that went through an interrupted OBD reflash.
On this cases the tool informs how much data was damaged and will flag bad data on file readouts; writting will be performed normally.
A new button named "OTP Check" has been introduced in order to show information about the locked/OTP/not writeable sectors.
The sporadic issue of incorrect detection of TC1762 vs TC1766 and TC1792 vs TC1796 has been fixed.
OBD:
Denso_76F OBD protocol has been updated to version v1.6.
Important warning: as new calibration files are being added daily for this OBD protocol, it is extremely important to perform online database update ("DB Update" button).